Update 3/2017: The Drake Hotel is still a wonderful place to go. Just be aware that one of their restaurants, the Cape Code Room, is no longer open.
Chicago's own
Drake Hotel
is one of a growing number of hotels in America that have recently been formally recognized as offering both ambiance and history that go beyond what most hotels can offer. What a great way to enjoy time out with your fellow boomer/senior friends.
In the case of the Drake, situated since 1933 at 140 E. Walton at Michigan Ave., you have three unique venues that have hosted untold numbers of famous celebrities, politicians, and gangsters. Everyone from Marilyn Monroe and Frank Sinatra to JFK and Winston Churchill and to Michael Jordan and Oprah Winfrey has found a warm and friendly place to relax and be themselves at The Drake Hotel's various venues.
Between the Cape Cod room and the Coq d'Or (both situated at street level but with the feeling of private cellars), The Drake offers a quiet escape from the crush of the crowd. In the Cape Cod Room, guests are often invited to carve their initials into the nearly-hundred-year-old bar, and many famous folks have done just that, without worrying about autograph hounds or ogling eyes. Many came often enough that they had their own designated tables because, here, they are just people. Oprah, Michael, Frank Sinatra Joe DiMaggio, and hundreds of other well-known people have sought refuge and comfort food here.
Today you'll enjoy the same decor in the Cape Cod Room as those who came in 1933, though the room added lights during the 40s when electricity became common. And you'll enjoy the same sense of being in an elegant and private space.
Feast on classic Lobster Thermidor with butter and shallots, served with crisp green beans and mushrooms. And/or slurp the world-famous Bookbinder's Snapper Soup (changed from the original turtle and served elegantly topped with basil/arugula foam), or enjoy classics like fish and chips with greens (grown, for your enjoyment, on the hotel's rooftop garden and served fresh daily) or Shepherd's pie. And trust the Cape Cod sommelier to recommend wines that pair perfectly with each dish.
If you're in the mood for something showier and more plush, visit the gorgeous Palm Court room upstairs for drinks or lunch. This is where The Drake, one of the few historic hotels to offer high tea, invites families, elders and up-and-comers alike to partake of delicious and attractive tidbits, both savory and sweet, along with elegant teas (Tropical Garden herbal is just one surprising and delightful flavor). And of course you may also enjoy champagne and/or other wines or cocktails.
For dessert, enjoy the kitchen's creations, some of them designed to be topped with a drizzle of The Drake's own aged maple syrup. And don't fail to try the legendary brownie, the classic dessert that was actually invented by the then-chef for the Chicago world's fair of 1933. The powers-that-be wanted a dessert that was portable, delicious and non-spilling. Voila, the chef created the first-ever brownie, and today you can get one here that's made with the same recipe – and loaded with nuts.
If you hunger for the atmosphere of old-time classy cocktail bars, look no further than the Coq d'Or, down the stairs from the Palm Court and through the hallway.  Enjoy classic whiskey and other cocktails served with calm and measured aplomb by the long-seasoned staff members who know how to respect your privacy yet be available for conversation as needed. Bartenders here give careful attention to detail in both ingredients and service. Order a meal, a snack or choose from their extensive and carefully curated selection of cheeses. You cannot go wrong here. The dark wood and subtle lighting make for a supremely comfortable place in which to enjoy food and drink in Chicago.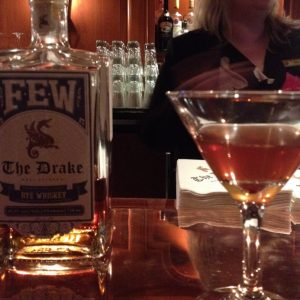 The Coq d'Or (French for Golden Cockerel or "young rooster") has been voted one of Chicago's Best Restaurants & Lounges for its historical significance.  The legendary bar opened to a line of thirsty patrons after the repeal of Prohibition, on December 6, 1933 being the second outlet to obtain a liquor license and remains a fixture in Chicago today. Their extensive whiskey list including a new addition, a Rye Whiskey locally blended and distilled in Evanston, Illinois, by FEW Spirits in conjunction with The Drake Hotel.  Meet up here with local neighbors and international travelers and visiting business executives. Get some work done together, or just socialize in a warm and classy environment. Come for lunch, dinner, or late night with live week-end entertainment at the piano bar.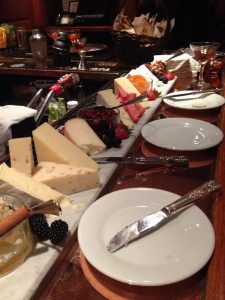 The Coq d'Or Whiskey Club
Enjoy a good Old Fashioned? Join the Whiskey Club. All you do is register online. You'll get a membership card in the mail that shows you'll be invited to private whiskey club quarterly events and get special discounts in the Coq d'Or. No application fees or dues (must be 21 years old to participate).
In case you haven't heard enough, why not just schedule yourself for dinner or lunch or high tea or cocktails at one of The Drake's fabulous venues? Then sink back into the elegance. Enjoy the food and drink while you feel the history.