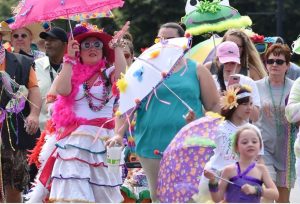 Kentucky is where my parents were both born. My mother's remaining relatives still live in the Louisville area. And the  entire state is full of food and beauty and music – and it's calling us to "come on down" and immerse ourselves in it. Just for starters, pack up your lawn chairs, dress in your best fun clothes, and go sample one or more of the amazing selection of music festivals going on just this June, 2019.
The Great American Brass Band Festival – June 6-9, A one-of-a-kind event committed to preserving brass band music through performance and education. 2019 marks the event's 30th anniversary. www.gabbf.com, Danville, KY.
Festival of the Bluegrass – June 6-9, Music and laughter flow as freely as the bourbon, and new friends are made around campfires, over banquet-size meals, and while hootin' and hollering' at the artists on stage.  www.festivalofthebluegrass.com, Kentucky Horse Park, Lexington, KY.
Laurel Cove Music Festival – June 7-8 – Inaugural event at Pine Mountain State Resort Park set in the scenic Laurel Cove Amphitheater, featuring both talented local and national music acts. The festival will also include food/drinks as well as craft vendors. https://www.facebook.com/events/803524303347347/
W.C. Handy Blues and Barbeque Festival – June 12-15, A weeklong musical event that features blues and Zydeco bands from across the United States. Not to mention the mounds of barbecue, red beans & rice and other great treats available from local vendors, http://www.handyblues.org/, Henderson, KY.
Rudy Fest – June 15-22 – Bluegrass Music Festival with various artists performing over multiple days. Camping also available. Morehead, KY.