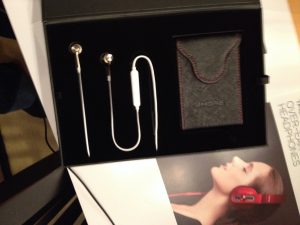 Earbuds are all the rage these days, some with built-in microphones and remote control for your device. Apple hands them out with some iPods and iPhones, or you can buy the Apple earbud-remote-mic combo online for $29 (maybe cheaper on Amazon). But their design just doesn't stand up to the sound quality of a set of 1More brand triple-driver in-ear headphones that was recently sent for review purposes.
What does it mean that it says "triple-driver"? A whole lot, say the experts. The more drivers in your headphones/earbuds, the better quality sound you'll get and, according to Gizmodo, a well-known online tech blog, it's hard to get technology into headphones. Even making a single driver (like the ones in your big speakers) so small that it fits in a tiny earbud is tough. To fit in more than one is a true technological achievement. These buds have three of them inside, and they're all about producing fine sound you can really appreciate.
Experimenting with the 1More headphones (~$99) gives a new appreciation for what good-quality buds can do for you. In a little personal comparison test, these 1More triple-drivers came out way ahead of the Apple product and light years ahead of the crummy disposable phones they hand out on airplanes. You can really tell they have been tuned to their final state by a professional sound engineer/producer/mixer. Good bass and crisp sounding brushes on drums and cymbals and nice piano in a jazz piece. Rich bass and fully twanging strings for a duet by blues giants Albert King and Stevie Ray Vaughn. Beautiful violin clarity in your classical favorites (you listen to Nutcracker all year long, too, don't you?).
Once you find the correct eartips for the 1More – you get three sets to work with – these stay pretty well in your ears. The earpiece is set at an offset angle to the technical part and that helps make them feel more secure as well. Running with them might be a challenge, but with ordinary use and walking around, these minimize or eliminate the falling-out-of-your-ears frustration common with some. Truly handy, too, if you're on a long call and don't want to have to hold your phone up or put it on speaker.
Nice extra touches. The cord is strengthened with Kevlar and covered in a braided coating that makes it non-knot-forming (don't you just love that?). The earbuds come in a classy pleather-covered black magnetic-closure case and also with a shirt clip and and a dual-prong airline adapter. Really nice for traveling, and they also work great with an audio extension cord** to listen to a movie streaming on your computer or your TV or other audio device when you want to listen yourself without bothering anyone else. Or in case your old McIntosh receiver is malfunctioning…
**Get the audio extension cord with three rings on the prong, not two, if you want to also use it on your phone. The third ring is what makes it connect with the remote (volume and call answering) and the mic functions.
.