My sister and her husband have now taken two river cruises through Germany, each of which traveled through large sections of Bavaria. They were entranced by the local food, drink and music and, of course, awed by the majesty of the castles. But the history was the biggest draw for them, particularly because her husband was stationed in Germany during his long-ago stint in the U.S. Army.
Stepping through the courthouse in Nuremburg (Nürnberg in German). Walking in the footsteps of Adolph Hitler's troops on the parade grounds where they passed in review and saluted him: "Heil, Hitler."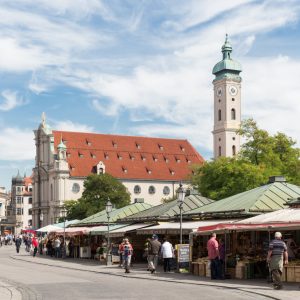 Bavaria is Germany's southernmost state and the #1 vacation destination in the country. It's home to picture-book scenery, unspoiled nature, idyllic towns, vibrant cities, delicious beer, sun-drenched vineyards, delightful regional cuisine, magnificent castles, ornamental baroque churches, medieval abbeys, and the majestic Alps. Visitors enjoy the benefit of the deep sense of hospitality that's common among the locals.
Munich (in German, München) is the capital city of Bavaria. It is Bavaria's largest city and the third largest city in Germany (after Berlin and Hamburg). Munich lies about 30 miles north of the edge of the Alps and is bisected by the Isar River. Population in 2011 was nearly a million and a half. For more, check out
Britannica's brief history of Munich here
.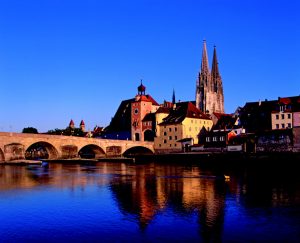 Romantic Road, the Castle Road, and The German Alpine Road are popular tourist routes that allow visitors to explore Bavaria's richly varied landscapes and attractions.  Everywhere, visitors partake of the Bavarian conviviality and joie de vivre, whether in traditional beer gardens, at wine festivals or at a vast range of cultural events.  Tradition is strong in the region; visitors can participate in the Oktoberfest in Munich, the Bayreuth Festival, the Oberammergau Passion Plays, Nuremberg's Christmas Market and the Maypole Festivals throughout Bavaria.
You'll find yourself immersed in history, majestic beauty – both natural and man-made, as well as enjoying the warmth of the people when you visit Bavaria. It's a good trip to make with spouses, kids, grandkids, and/or friends.
And nowadays, there are plenty of direct flights from Chicago to Munich. Next post we'll tell you more, including the lowdown on the very cool Munich Airport.