As more and more people become aware of the impact our disposable society is making on our mother Earth, the more it makes sense to give gifts that can be re-used. And while a reusable fabric grocery bag will always be a good idea, it's not inspiring as a gift item. So we've tested a few things that do fall into the green category and yet should please the recipient while making you feel good, too. Here are a few choices.
1.  Who doesn't love the vibrant, saturated colors of good markers? No need to press really hard to get them, either. Kids love them compared to crayons. Now there's a product,
WIPENOTE Dry/wet erasable notebook
, that you and your grandkids can have fun and get creative with using the intense lines of markers – and then erase and start all over again. I remember how jealous I was of those dry erase boards our teachers used to have when we late-boomers were little – how much I wished I could have one at home.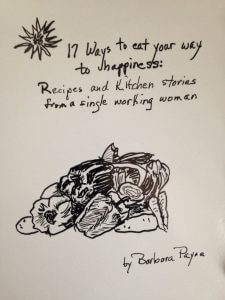 Today that type of board is available everywhere. But  WIPENOTE Dry/wet Erasable Notebook, one of several of products by Beyouneeq.com, is portable and protectable. You get 50 pages of pristine whiteboard-type surfaces to produce your work – from pretty scribbles and beautiful drawings to mind maps that help organize your thinking. Any time you love what you draw/design/create, take a picture with your phone to save it forever, and wipe the page for a fresh start next time. There's something freeing about knowing that you can easily erase and start over – in the sense that you don't need to be afraid about doing something flawlessly. Even just erase a line or a section and re-do it to your satisfaction. Check out the hand-drawn cover (above left) that I imagined for my cookbook/memoir, complete with raggedy sketch of vegetables.
Tools to use for drawing//writing/designing:
For dry erase – all kinds  of dry erase markers will work. Pick your colors and go for it.
For wet erase they recommend  Vis-a-Vis wet erase markers by EXPO. For all other needs – Lumocolor correctable dry erase pen Nr.305 F-9 (Made in Germany by Staedler and included with the notebook).
Any correctable marker should work. Correctable markers can remain erasable for a long time, up to 6-12 months. But if it doesn't come off easily with a pen tip or damp cloth, removal is easy with the EXPO's non toxic whiteboard spray remover.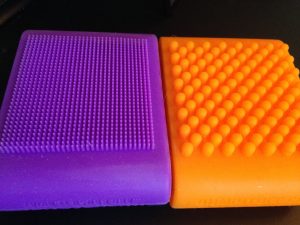 2.  Or how about the unique BUMP IT OFF tool made by The Goddess of Gadgets? This is a multi-functional cleaning aid that's made of bright-colored silicone that looks like it will last forever. The company's materials suggest the Bump It Off has many cleaning uses around the home. We tried a few and found it was especially good at getting pet hair out of fabric. No more need to take off your dress pants to sit on the couch!
You may find some uses work better for you than others, so check this list and see which ones work best:
Use either the big bumpy side or the fine bristle side, depending on how delicate your fabric is – to loosen and lift stubborn stains from clothes and upholstery.
Keep your rugs and floors cleaner longer by using the fine bristle side to wipe your shoes clean when you come in the house. Works on all types of shoe materials, from suedes to woven fabrics, and even to clean the soles of your shoes
Clean fruits and vegetables—use the fine bristle side to gently but thoroughly brush away dirt on strawberries, mushrooms and more.
Use the side that fits the size of your pet to groom your dog, cat, bunny or whatever. Many pets will enjoy the massage, and you'll be amazed at the loose hairs/fur you'll get out.
Self-massage is a powerful relaxing method, and this handy tool makes it more fun. Use the big bump side in the shower to exfoliate, massage and refresh your skin.
Amazing to see how much dirt and grime – and probably bacteria, too! – come rolling out when you soap up your makeup brushes rub them against the fine bristle side The little silicone bristles get deeper into the fibers of your brushes than if you just wash them by hand.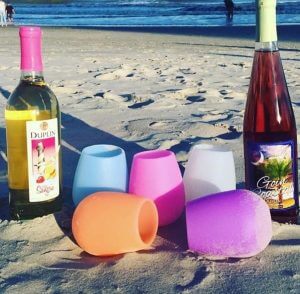 3.  And then there are the new BPA-free "Bendiware" wineglasses that you can scrunch up and take anywhere without worrying about broken plastic or glass. Drink your lemonade or wine or whatever out of super-flexible silicone cups that come in sets of 2 ($16.95) or 4 ($24.95), all in rich colors or in white that are both freezer and dishwasher safe. Mush these glasses up to fit in your bag or even your pocket and, when you take them out, voila! they revert to perfect stemless wineglass shapes. Perfect for dining outside in your backyard, for camping, by the swimming pool, or just hitting one of Chicago's many summertime outdoor events. Beats a paper cup any day, and you can re-use these indefinitely.
And by the way, it doesn't have to be summer in Chicago to have a picnic in lush green surroundings. The beautiful
Garfield Park Conservatory
, operated by the
Chicago Park District
, has patio areas where you can bring your own food and enjoy it in the oxygen-rich atmosphere of this extraordinarily lush collection of multiple rooms of artfully arranged plants and pools and fountains. No charge. Bring your sandwiches or salads, silverware – even a tablecloth if you're so minded – and pour your beverages into your Bendiware glasses. Your grandkids will love the children's area, too.