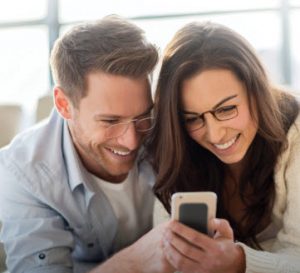 We're baby boomers, so we don't have to talk about what a pain it is to have to keep reading glasses handy. We've all been doing that for years now. If you're anything like me, you've been through many different options for keeping yours with you. Some kind of case, of course, is a must, otherwise the lenses get so smeared and scratched they soon become unusable. But what kind of case? Tried buying a pair whose claim to fame was neat: they fold totally flat, even the temples, and go in a nice, neat, flat case. Only problem with them – besides being a bit pricey at $30 – was that the straight-line-shaped earpieces let the glasses slip immediately off your face when you bend your head down to read. Ended up having to wrap a black hairtie around each earpiece to keep them on – a really sophisticated look. Saw another pair that folds flat but stays on – and it costs $200!
Now enter a new product called
Thin Optics
. These readers come in your desired strength and clip on to your nose – no temples needed. Plus, they come in a case that's cute as a button – totally flat and available in many different colors and designs. The sample they sent us has a beautiful multicolor floral pattern all over it.
Even cooler, there's a little strip on the back so you can stick it to your telephone, your dashboard or wherever. You slide the glasses out by gripping the nose bridge and then clip them on your nose and read away. If you're standing in the store with labels that you can't read, if you're out somewhere and you want to read a book, or even if you just need to see what's on your smartphone (emails, bus arrivals, etc.), these little things come in really handy. If I didn't already have something stuck on the back of my phone. I would definitely put these on there. But you can also buy a Thin Optics phone case with the holder (they call it pod) already built into the case. Because what do we boomers really need to take with us besides our phone, our ID or bus card and a credit card? Right: a pair of reading glasses!
And these
Thin Optics glasses come with an extra pair for free and free replacements for lost or broken ones – forever
! How can you beat that? And check out the cases that are decorated with lovely unique artwork from disabled or homeless artists. Thin Optics partners with
Artlifting
and donates 20% of its profit to directly benefit the artists.
Now the glasses likely won't stick to your nose through high winds or strong, sudden movements, and you probably wouldn't want to use them for your long-term reading, but they're good to get the job done when you're up and about. And hey, how about putting one in every room of the house? Could stick one on the inside of a cabinet door in the kitchen. Inside the medicine cabinet in the bathroom, etc.
Okay. I'm getting carried away. But it's a neat concept, well-executed, and offered at reasonable prices (starting at $19.95 + S+H) and with free replacements. A win-win for sure.