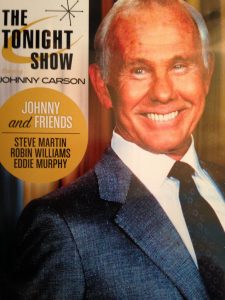 It's hard to believe Johnny Carson has been gone for so long. He was an important part of life for many Chicagoans. Many of us Boomers couldn't stay up 'til the end of the show each night but managed to watch at least the monologue. Always guranteed a few laughs. Of course, we had to wait through WAY too many commercials, but we loved him so much we just put up with it. And I was really sad when we moved east where he didn't come on until 11:30. I never got to see him live again.
Now time-Life has issued a retrospective of nine of Carson's great shows from the 70s, 80s and 90s that feature appearances by three of America's most beloved comedians: Steve Martin,
Robin Williams
, and
Eddie Murphy
. Watch Carson desperately try to control the show while Robin Williams goes off on his wild improv bits. Watch Steve Martin's first appearance where he hadn't prepared material for himself, even though he was a writer for The Smothers Brothers Comedy Hour. The real treasures of that episode are Johnny's monologue and his interview with the aged but still brilliantly commanding Jimmy Stewart. Carson talks with him  about some of his most famous movies:
The Shootist
, 
John Wayne
's last film, and It's a Wonderful Life, the most-viewed Christmas movie of all time. Funny to see the self-confidence six years later Steve Martin exhibits as guest host compared to his first performance. Feel the shock of noticing that Steve Martin is a much taller man than the Rocky movie hero, Sylvester Stallone.
And then watch the magnificently suave and impeccably dressed Eddie Murphy's first appearance where his sharp and incisive humor carried the night. So impressive was he that Carson invited him back again two more times the same year, while meanwhile Murphy became a breakout star, released his Grammy-nominated debut album, and began shooting his first movie.
The Johnny Carson monologues. The bright and loving interchanges between Carson and Ed and
Doc Severinson
. Precious memories. This is irreplaceable classic Carson and guests. If you love brilliant humor and love watching Johnny do his schtick, you can watch it without commercials or enjoy it as it appeared, but with only a few select commercials that reek of the times. Get yourself a copy of this
Johnny Carson DVD trilogy for $29.95 only from Barnes & Noble
. Released July 4, 2017 for direct response only and available now. A great gift for Chicagoans who lived during those 30 years of 1962 to 1992.