Vacation is a time to bask in comfort and luxury if you're able and willing to do that. Across the entire country you can find dozens and dozens of Historic Hotels of America, all of which are beautifully preserved and refreshed. They will make you feel like royalty and will gently remind you about the history of the area you're staying in. Here's a map of U.S. historic hotels so you can pinpoint if there's one near where you want to go.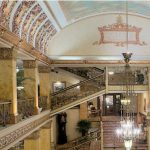 Take the magnificent Pfister Hotel by Marcus Hotels in Milwaukee, WI. There are, according to their website, at least 125 reasons to love the Pfister Hotel. A bonus of this vacation destination is that not only is it loaded with beauty and history, it's also within driving distance. Why not treat yourself as you make the acquaintance – or get reacquainted with – our fair sister city so close by.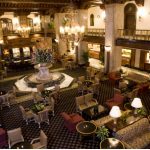 In the fast-growing-in-popularity metropolis of Memphis, TN you'll find The Peabody Hotel – of twice-daily-duck-walks-through-the-lobby fame. In addition to the famous duck parades past the registration desk, you have your choice of satisfying dining options within the hotel. Among them, the most opulent dining room in Memphis enthralls with Old South splendor and the classic French cuisine of Executive Chef Andreas Kisler. In addition to being the only Forbes Four-Star and AAA Four-Diamond rated restaurant in the Mid-South, Chez Philippe has been named among Food & Wine magazine's "Top 50 Hotel Restaurants," described as "worth a special trip" by The New York Times and included on Open Table's list of Top 100 "Most Romantic Restaurants in the U.S." Add to that a boatload of non-stop music and history in the many historic and modern venues, museums and landmarks in the fair city of Memphis, and you've got yourself a truly worthy vacay spot.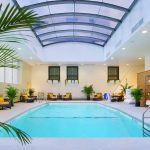 Closer to home, the Palmer House Hilton will charm you with some of the most exquisite gold-leaf and velvet-curtained surroundings you'll run into anywhere in Chicago. Did you know that Potter Palmer built this hotel for the love of his life, Berthe Palmer, and that it burned to the ground in the Chicago fire exactly 13 days after its inaugural event? Palmer – who was so discouraged he wanted to leave Chicago altogether but chose to stay because his beloved Berthe encouraged him to do so – went out and negotiated a huge loan from a business associate and rebuilt the new Palmer House – right across the street from the practically still smoldering remains of the original. And that's just the beginning of the Palmer House story. I have extremely fond personal memories of staying at this fabulous hotel when my college-bound daughter wondered why she'd want to live in Chicago. We lived in Cleveland at the time and visited often to see family but hadn't really gone "out on the town." Needless to say, once we settled in at this grand hotel and perambulated our way up and down Michigan Avenue, she fell madly in love with the city and made her college choice accordingly.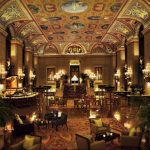 You can, of course, also consider treating yourself to a stay at the hotel that anchors the entrance to the famous Magnificent Mile – standing regally on the corner of Michigan Ave. and Oak St. The Drake Hotel is known for many things, including the gorgeous Palm Court and its High Tea service, the legendary Bookbinder snapper (red) soup, and the former Cape Cod Room, known for its wooden bar carved with famous people's initials – like Marilyn Monroe and Joe DiMaggio. This space closed a few years ago, but has now reopened as a breakfast option for hotel guests and the general public. Called the Cafe on Oak, it features a couple of specialty Benedicts named after MM – biscuit, steak & egg – and JD – muffin, pancetta, tomato & egg, Happily, the bar and many of the original furnishings remain so that history-seeking guests can still get a feel for the original space and this longest-continuously-running hotel in the U.S.
Wherever you go in our fair country, be sure to check if there's a historic hotel where you might indulge yourself and your loved ones. It'll be worth every penny.