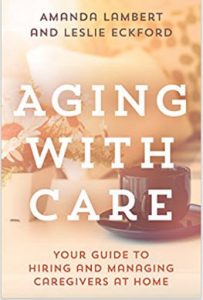 Aging with care: Your guide to hiring and managing caregivers at home, by Amanda Lambert and Lesley Eckford. It's depressing to think you might have to be on the receiving end of this kind of care in the near or distant future. But if you're an early-stage baby boomer. you're already in the vicinity of 70 and might even have some health issues. But if you're faced with taking care of your aging parent(s), this book offers solid, reliable information on a multitude of questions.
Critical areas of concern range from how to find, screen and hire caregivers to completing a full inventory of possessions in the elder's home, and include the challenge of determining the truth when elders complain about caregivers as well as concerns about suspected criminal behavior or abuse. Financial exploitation is not uncommon and can be difficult to verify, especially if the elder feels obligated to the caregiver for giving such intimate service. Confidentiality is important in regard to salaries, taxes and so on. The book abounds with real life stories that demonstrate problems, pitfalls and possible solutions.
Both authors are professionals in the field of aging: Lambert, an aging lifecare professional and certified care manager; Eckford, a licensed clinical social worker and registered nurse whose main focus is geriatric mental health.
Cautionary note. Don't just hand this book to your overworked adult child whose life is so stressed already. The idea that you might need care and oversight at some point could just send them into a tailspin. But if they're ready or are facing a need for this kind of information, the book is an excellent guide. And a help for you to set guidelines for a time when you might be the one in need of care.