Even when your Baby Boomer life is very comfortable, things can sometimes start to feel really low-key, even  routine. So it's good to know about travel/vacation options that could revitalize you with their unexpected vibrancy. Arizona is one of the few states we've been to multiple times – and enjoyed very much each time. The folks from
VisitPhoenix.com
partnered recently with
Lux Bar
, 18 E. Bellvue Place, to showcase the winter joys of Arizona and invite Chicagoans to include this winter-warm state in their upcoming travel plans. Scottsdale serves as the main hub for Phoenix, Mesa and more and is continually growing and changing.
Yes! Downtown Scottsdale features four Arizona wine tasting rooms that tell the story of the state's 100 award-winning wineries including LDV Wine Gallery – eat, sip and taste on their two shaded patios. Further south in the Wilcox wine region, check out Salvatore Vineyards, Carlson Creek Vineyard, and the Sue Vino Winery, all of which serve, along with the four tasting rooms, as part of the
Scottsdale Wine Trail
.
Scottsdale is also now home to a unique cocktail bar called
Counter Intuitive
. Open only on Friday and Saturday nights, 8pm to 2am, it rotates its decor and menus every few months – from a New Orleans antique shop or Cuban hideaway, to an Agua Caliente Racetrack during Prohibition or a Chinatown hangout. You never know what kind of ambiance to expect – just that it'll be interesting and stimulating – which gives even full-time area residents something new to get excited about.

Southwest culture and art
Besides imbibing, of course, other activities may call to you on your visit. You might like to go exploring the cultural footprint of the Southwest's Native American nations during Native Trails. This is a series of noontime festivals that tell stories of Native culture through song and dance. Free, at Scottsdale's Civic Center Park January through March. Then you can always visit the Arts District where dozens of creative minds have their shops;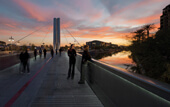 extended hours on Thursday evenings let you take the Scottsdale ArtWalk. Or take a self-guided tour of the Scottsdale Public Art Program (love the holiday musical greeting on their website!) of some 50 artworks, including well-known pieces like Robert Indiana's iconic "LOVE"sculpture and Soleri Bridge & Plaza.
Challenge yourself!
Wanna be a cowboy? Almost all local resorts in Scottsdale offer trail rides and communal cookouts, but how about this for a challenge?!
Arizona Cowboy College
gives you a closeup view of what it's like to be a true cowboy. Learn horsemanship skills – yes, serious things like cutting, branding, inoculating, dehorning and driving cattle – and then go out and do that stuff on the range. Yikes! We'd have to sign up for an awful lot of horsemanship skills before even thinking about attempting the rest of it. Hmm. Wonder if trying this at a ripe old age like 60 would ever result in actually achieving such skills? Hey, who cares? If it's on your bucket list, go for it! If your taste leans more towards a less vigorous horse-related activity, check out
Fort McDowell Adventures
for a trail ride.
Or how about learning (or at least trying) to drive like the pros on a racetrack?
Bondurant Racing School
experts teach high-performance racing skills on a 1.6 mile, multi-configuration track. From four hours to four days, the school offers racing courses for every level of driver. If you've already graduated to a huge Cadillac or Buick, consider how this might shake up your life.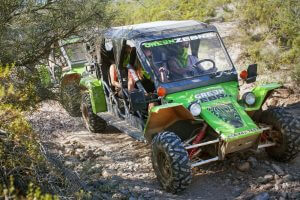 Then there are adventure tours that include climbing mountains, stargazing, hiking and bicycle riding. Try Green Zebra Adventures or a trek with Arizona Outback Adventures (AOA) that includes the history and gelology of the landscape and some insights into the desert's flora and fauna.
If you like to plan your own adventures. get yourself a copy of the Scottsdale Area Hiking and Trail Guide from ExperienceScottsdale.com.
Where to stay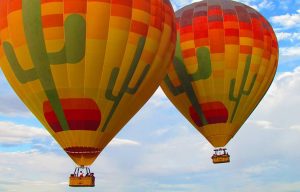 Other facilities to consider: The Boulders Resort & Spa. One-hundred-sixty private casitas (small individual houses) set out in the Sonoran Desert just far enough to be free of light pollution – the canopy of stars out there is magnificent and seemingly endless. The resort just underwent a multimillion dollar makeover that incorporates the area's indigenous roots and Old West charm along with new furnishings and upgraded fixtures in bathrooms. Enjoy your private fireplace and cozy patio. Commune with 12-million-year-old natural rock formations. Enjoy drinks in the redesigned lounge bar and dig the Southwestern cuisine in the Palo Verde restaurant.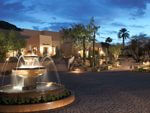 Or check out the new custom-designed furniture in the completely restored and modernized 60-year-old Hotel Valley Ho that welcomed Hollywood's finest during its heyday in the 50s and 60s. There are dozens more places in a wide range of prices, including the wellness experience at Sanctuary on Camelback Mountain Resort & Spa's Spa House.
Lux Bar hosting
Lux Bar welcome Arizona Tourism attendees with tasty appetizers that led to a first course of rich crab bisque, then the diner's choice of broiled skirt steak with caramelized onions and maitre d' butter, or sauteed whitefish with lobster butter, or penne pasta with dried tomato, parmesan, arugula, and zucchini, seasoned with thyme and roasted garlic and topped with smoked
Nueske's Farm smoked chicken
. Entrees were accompanied with creamed spinach and mashed potatoes served family style. Dessert was an old fashioned chocolate cake with dark chocolate ganache and chocolate frosting – perhaps a new "near-death by chocolate." High five to the Lux Bar culinary and service teams.