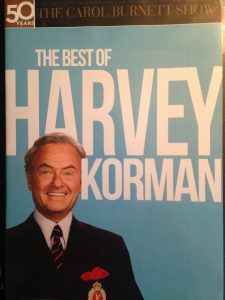 Reviewing the Time-Life DVD of the Carol Burnett Series: Best of Harvey Korman (a Chicago kid) –  and herewith a  bunch of quick observations so you'll get a feel for it.
Amazing to see
Sid Caesar
so young and tall and slender with such broad shoulders – and all that hair! I only remember him as being kind of bald and old. And those fabulous sound effects he produced. He looked smashing in a tuxedo and a black bowtie and a beautiful tuxedo shirt. Never knew the guy looked so good.
In so many skits Carole is constantly mooning over the young and handsome
Lyle Waggoner
, the sexy member of the cast.
And then came a young Ella Fitzgerald, singing Day In, Day Out. In a fabulous sequin-topped gown with a long, artfully designed black satin bottom. She had to lip-synch to a recording of her songs because the musicians were on strike. What a diva. What a voice. What a talent.
Harvey Korman dressed as a fabulous cross-dressing star. In the same outfit as Carol Burnett and Vicki Lawrence. With sparkly black trimmed with red ostrich. He does the rehearsal of the number and he's even sexier than they are. And, as the maid, there's the star Isabel Sanford who played Weesy in The Jeffersons.
The 1940 bombing of London skit is precious and classic.
In one skit Carole plays Mae East, sexiest star of all time. Harvey Korman interviews her. She's so good. And Korman is a great straight man. She treats the Lysle Waggoner character like men typically treat a sexy woman. Truth is funny.
The skit about the first family is charming. Korman plays the president addressing the nation from San Clemente in his California shorts. Carol Burnett is the president's wife, and Vicki Lawrence is the mindless blonde daughter.
Lots of musical numbers with fabulous costumes featuring tons of sequins and oodles of ostrich feathers. A lot of silly fun. OMG, who knew that Bernadette Peters could tap dance? LOL!
The waterbed skit with Carol and Tim Conway is hysterical. The one with him and Vicki as the hot chick trying to rob the bank is priceless. And there are lots more. Get this fun trip back in time for 
$10.64 on Amazon
as of this writing. Good gift idea for a fellow Boomer.