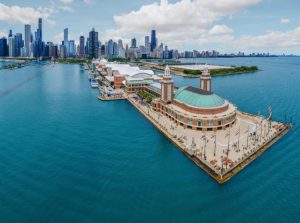 Navy Pier, in partnership with Illinois Holocaust Museum & Education Center, just opened its newest exhibit, "Stories of Survival: Object. Image. Memory." The exhibit will be on display outdoors for the first time at Navy Pier's Polk Bros. Park for guests to experience from Thursday, April 7 through Thursday, June 30.
"A suitcase. A sweater. A Teddy bear with one eye. The personal things exhibited in Stories of Survival—very small things when measured against the enormity of war—are items that real people held close to provide comfort, connection and identity," said Navy Pier President and CEO Marilynn Gardner. "This powerful installation offers insightful answers about individual survivors, but it also stirs meaningful questions. What would you take with you?"
Special Illinois Holocaust Museum-curated programs are planned for Wednesday, April 27 and Wednesday, June 8. To learn more about "Stories of Survival: Object. Image. Memory," click here.