Isn't it fun to see what creative minds can do to help us use technology more efficiently? We already love our computers and our smart phones and tablets and so on. But products like external batteries, cases for e-readers, fun and useful attachments for phones – like the I-now-can't-live-without-it CardNinja that holds your credit card, bus card, cash or whatever securely on the back of your phone – and so on are what keep the joy of the Internet and of smart phones constantly re-energizing itself.
A tech gadget company called myCharge has recently introduced a couple of fun and fabulous devices: the myCharge Unplugged Wireless Charging Bank and their handy little myFlipShade-cum-Phone Stand. Here's what we think about them.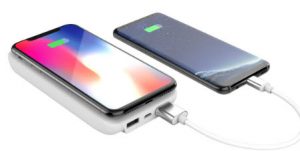 The myCharge Unplugged 5K Wireless Phone Bank has a beautiful, soft finish on the casing. It's an elegant design that's pleasingly smooth to the touch and has a classy-looking range of tiny lights to tell you how much charge is left. We've found it can hold its charge for quite a long period while it's stored unused (a couple of weeks even). When you use it, the bank can charge up to 3 devices at a time – one wirelessly by setting it on top of the bank (as long as that device is equipped for wireless charging) and the other two devices via the two included USB ports. Plus there's an Android connection, too, so you can charge Android devices (phones, Kindles, etc.) and also use it with a micro/USB cord to recharge the wireless bank. Very cool.
The myCharge is much nicer to look at and considerably lighter than many other external battery options – always a happy thing when you're already weighed down carrying around so much tech paraphernalia that your shoulder's threatening to go out of whack. It's 2.75 inches wide and 5 inches high. We are very pleased with the usefulness of this product and happy with how handsome it is. Well worth the $50 price tag.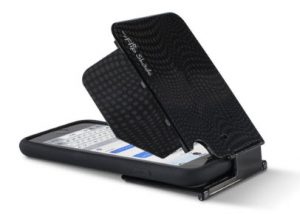 The myCharge myFlipShade is a cute, very lightweight device you attach to the back of your later-model smart phone – it's too wide for older, smaller phone sizes. The attachment leaf has a spacious opening to accommodate camera lenses on most Android or iPhone models (not the 5 series and earlier). It's about 2.5 inches wide, so check your phone width before you decide to buy.
The device is made of very thin plastic – a good thing for keeping the weight down, but it does make the device feel a little delicate. It has a set of "wings" that open up to protect your phone screen from sun, light rain, and/or prying eyes. On one of the samples we worked with, one of the wings snapped off before we'd even tried to attach it to a phone. We were able to re-attach it, but it never snapped quite all the way shut after that. So you need to handle those wings with care. The device comes in a couple of finishes, including white marble, the snazzy Black Dot and one in white that's dotted with pineapples! Besides protecting your phone screen, the device can serve as a phone stand – works either horizontally or vertically, so if you're into reading, making videos or watching long-a*s movies on your phone, this could come in handy. $9.99 on their website.