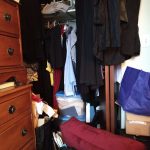 Helluva 9 weeks we've all been isolated at home. Many folks are doing in-home projects they wouldn't usually find the time/energy for. One of those things is cleaning out and reorganizing closets. And what do we all have dozens of pairs of in our closets? Shoes. And if you're like a lot of us, you have a few pairs you like but that aren't that comfortable.
Sampled a new product recently called Formé Shoe Shapers. Articulated in all the right places so you can stretch just the right spots on your flats, highest high heels, and everything in between. Easy to use.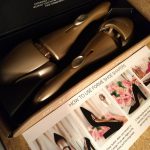 Use these in ballet flats, boots, strappy shoes and more. They're easy to adjust by expanding the "wings" of the toe shaper. As little as an hour can make a difference in comfort, but you can leave them in overnight or longer if you want more stretch. Just don't stretch them so much that you get ridges showing on the outsides of the shoes. If you see those, release a little of the pressure.
I gave the shapers a real challenge. A year ago I bought a pair of Clark's comfort shoes from Zappo's – based on the hundreds of 5-star reviews. Got them delivered. Tried them on. Found they felt a little like Earth Shoes. If you're a Boomer Lady you undoubtedly remember those shoes where the heel was slightly lower than the toe – supposedly good for your feet but not really all that comfortable.
Worse, after I'd worn the Clarks a couple of times around the house I realized they were quite tight across the instep – and there was something sharp pushing into the top of my foot. Somehow I didn't have the energy to repackage them and return them (even though Zappo's offers free returns). Still, I couldn't wear them, so they sat in a basket for a couple of months.
When I got the shapers, I put them in the offending shoes for a couple of days. I can now wear thicker socks with them and that obviates the pointy thing (that I cannot locate no matter how I try). So these Formé Shoe Shapers have given me a pair of closed-toe comfort shoes to wear around the house instead of slippers.
The company delivers these shapers with a simple set of instructions on a nicely laminated card. You can keep that in the box with the shapers or in your file folder maybe under "S" for shoes – you have files, right? If you do file it in a folder, make yourself a note somewhere where you usually look for things. Once you become an experienced user, you won't need the instructions anymore.
These are good for shoes that fit you but might be just a tiny bit too tight. They don't let you go up a half a size or anything. If you've got the room in your closet and the budget, buy a few sets. Put 'em in your most popular shoes every night and keep those puppies ship-shape – instead of smashed on top of each other in a basket outside my pathetically disorganized closet. Available on Amazon.
And good luck with all your quarantine cleaning projects. It'll be interesting to see which directions we all go in once we're done with those.