Books about getting old come in a lot of varieties. Here are some thoughts on 3 completely different types of books aimed at baby boomers or people who study boomers. One is a brilliantly written memoir by a successful public speaker. The second is a wonderfully human, trying-to-be-funny-and-succeeding-against-all-odds book about the difficult subject of caring for close senior relatives with  dementia/Alzheimers. And the third is actually a textbook on research about grandparent roles in many countries of the world.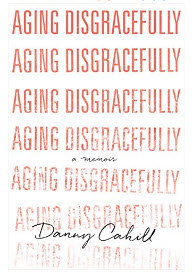 Aging Disgracefully: A Memoir, by Danny Cahill. We all talk about page-turners, usually in connection with mystery novels, but this memoir is just as compelling. It's written by a guy who was tremendously successful his whole life – from his first job out of college as a recruiter, and all the way to  buying that company. His success, though, is chronicled only incidentally as he bares his soul about his love life and his marriage and his relationships. The guy pulls no punches – though you may wonder how it's possible anyone could be "the good guy" so much of the time.
He includes some embarrassingly frank descriptions of the sexual antics of younger persons who learned about sex from porn on the Internet. But I was particularly amazed by his statement late in the book: "I never understood why Sydney, and later Kelsey to a far greater degree wouldn't stop something they knew to be harming them." Who has never heard about the madness of addiction? Dysfunction? Danny Cahill is a public speaker, a successful entrepreneur, a playwright, and one hell of a storyteller. I couldn't put this book down, and probably your giftee won't be able to either. $18 hardcover on Amazon, $8 for Kindle version.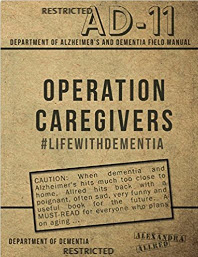 Operation caregivers: #LifeWithDementia by Alexandra Allred. This is truly a compelling account of what Allred's family went through when both her parents were afflicted with dementia/Alzheimer's. She and her sister spent incredible amounts of energy helping their parents adapt slowly to their medical conditions – denial is common among those who are becoming memory-impaired – and then moving them into memory care facilities and watching over them. Whether your life is touched by dementia or Alzheimer's or not, this book is engaging and extremely readable. Despite many other pressing to-dos, we couldn't stop reading it. It truly opens a window onto the realities of caring for loved ones who are no longer in their right minds much of the time.
The stories of poor care from lackadaisical, uncommitted workers are full of details, often related with vivid dialog, and are frightening to contemplate. The sisters' love is clear as Allred narrates the many struggles they go through – to visit, to correct poor conditions, to communicate with their parents, to pay the overwhelming financial cost, and to keep seeking a better facility. The book is also full of helpful, hard-learned tips about ways to communicate with someone overtaken by serious memory issues as well as practical advice for every step of preparing yourself or a loved one so that chaos does not ensue when family must begin hiring caregivers and seeking memory care. Good book. Hard-hitting but funny – Allred worked hard to find humor in such difficult circumstances. Printed with double-spaced and lots of white space so it's easy to read. $20 for paperback on Amazon.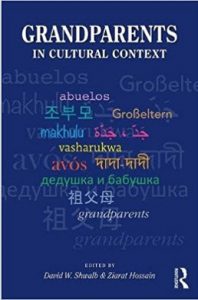 Grandparents in Cultural Context, edited by David W. Shwalb and Ziarat Hossain. This book is a textbook written in academic style – a little dry, lots of statistics, a sprinkling of illustrations – but it contains some interesting facts about what it's like to be a grandparent in countries all over the world. Compare, for example, the growing cultural diversity in the United States and Germany, brought on by immigration and fostered by increased acceptance of intercultural relationships, to the dwindling number of grandparents in Japan and China brought on by rising levels of childlessness among younger generations. If you're a boomer and thinking of emigrating to another country, this book might give valuable insight into that nation's expectations of you in your role as a grandparent. Full of information and educated speculations; interesting, but not what you'd call a page-turner. ~$59 paperback, $47 eTextbook on Amazon.