Gifts can be so hard to choose.  Especially as we grow older, many of us don't need any more tsatskes (pronounced in some circles choch-kees, it's a Yiddish expression for "stuff"), so we tend to go for consumables – and most of us do enjoy receiving such things as candy, coffee, popcorn, etc. So let's start with a few suggestions for unique wines and spirits and places to treat your friends/family to dinner on Christmas/Eve.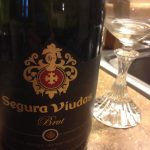 For sparkling-wine-loving friends. Segura Viudas Brut (SRP $10) or Freixenet Cordon Negro (in the sexy black bottle – SRP $9), both Spanish cavas that bring full, elegant flavor for value prices. Wonderful with food. Perfect for toasting. And just plain fun to enjoy in front of the fireplace (or a video of a burning fireplace).  Or give them a fireplace DVD for their VCR ($10).
For luxury wine-loving friends
. Check out the reviews
here
,
here
,
here
and
here
for ideas for luxurious wines that are sure to make your friends feel truly appreciated if they love full, rich wines with their special meals. SRP $20 up to $100-plus.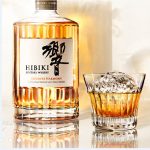 For whiskey-loving friends. Japanese Hibiki Harmony Suntory whisky – floral notes play just a small part in this elegant, smooth, balanced and subtly sweet blend of whiskies. Plus it comes in a beautiful bottle. SRP ~$70.
Oh, and here's a cool new book about whiskey – Whiskey: A spirited Story with 75 Classic and Original Cocktails by Michael Dietsch. It just happens to be written by a pal I met during our Freixenet trip to Spain. He's very entertaining and knows a lot about whiskey. Great gift for one who loves whiskey, making cocktails with whiskey and enjoys a good read.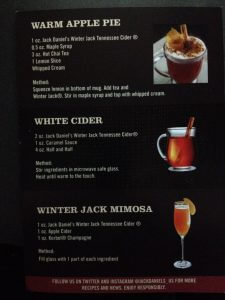 And if you want to offer something really unique, Jack Daniels has a whole line of whiskies, including Gentleman Jack (sweet vanilla, citrus, spice), Jack Daniels Tennessee Fire (red hot cinnamon and a touch of sweetness, and a seasonal release called Winter Jack. It's a mixture of apple cider liqueur and JD whiskey with holiday spices. It's  very light – not serious sippin' whiskey – but it makes some fun cocktails. Magnify the image to get the ingredients and instructions. Ah, I can feel myself in front of a fire sipping one of these homey concoctions, can't you?
For after dinner.
Amaro is the name the Italians give to the herbal-infused liqueurs they serve after their fabulous many-course Italian meals. Chicago's own maker right here in the city makes
Cinpatrazzo
 with a secret herbal potion that truly settles the stomach after a big meal – and tastes delicious while doing so. This locally made amaro will impress your giftee with your good taste – and let her/him know how much you care. And, oh, enjoy the
beautiful Cinpatrazzo website
! 
SRP
~$35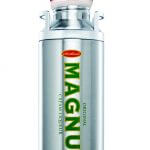 And then there's MAGNUM™ Highland Cream Liqueur, a silky smooth blend of Scotch whisky and pure cream that brims with tastes of chocolate, caramel and rich toffee. What a fabulous dessert drink to serve with your holiday cookie tray. Or try these scrumptious Magnum drink recipes.
For your pizza-loving friends/family – Brunch!
Who'd a thunk you could turn pizza into a fabulous brunch menu? 
Robert's Pizza Company
, has done it in style. Take your gang between 11:30am and 3 pm and check out the mouth-watering-sounding LOXZA PIZZA (with lox, double cream  cheese, chives, red onion, chopped egg, dill and capers) or a cool sweet treat like Robert's very own 'ZA DOUGH CINNAMON BUN. 'Za Dough is their own recipe that was 15 years in the making. Oh, and try their new brunch cocktails like the BRUNCH MONEY COCKTAIL, made with 
Patron XO Café liqueur
, hot coffee and heavy cream.
While it's always best if you can figure out something a particular individual is likely to enjoy, you might be one of us who is not blessed with gift-choosing acumen. Or if you're blessed with lots of friends/family who have everything – or almost – here's a brief random assortment of product reviews you that might fit as gifts.
For your grandchildren – give twice.
From Cricket Media comes a collection of ad-free kids' magazines for all ages. I took the samples they sent on a visit to my grandkids – ages 9, 7 and 4 – and they all immediately got lost inside the pages of their very own age-appropriate publication. I call that a very positive reaction to the material. Games, puzzles, stories and more. Check 'em out: BABYBUG (6 mos to 3 yrs), LADYBUG (3 to 6 yrs), SPIDER (6 to 9 yrs), and CRICKET (9 to 14 yrs). Hey, something besides digital screens to keep them interested and challenged! On sale for the month of December, subscriptions are $29.95 (regular $33.95) 
and
 when you subcribe they will also give a subscription to your choice of one of two charitable organizations. Visit them at
www.cricketmedia.com
.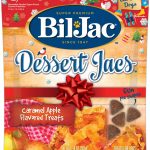 For your dog. Ever feel sorry for your dog because all s/he ever gets to eat is dry brown nuggets? How about a dog dessert for the holidays!? Bil-Jac is offering this year Apple Caramel dog treats – with real chicken as the #1 ingredient. My daughters' dogs LOVE the taste. And it's just fun to treat your dog to something special during the holidays – oh, alright, any time at all. Look for the brand at your Chicago neighborhood PetSmart, Pet Supplies Plus, and Petco locations, plus some private pet stores like Let's Pet, Ruff 'N' Stuff Pet Center and others. Anyway, don't dogs just love anything you get for them?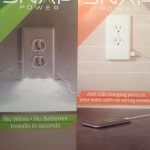 For your home. A nightlight that doesn't stick out from the wall and/or look silly sounds good, doesn't it? Snap Power makes one that's totally integrated into an ordinary-looking dual-electrical-outlet faceplate. Some reviewers say they won't shut off and that the electrical connection is iffy. And a hitch with this and with the USB-charger-equipped model (next paragraph) is that you can't use them with those high-tech plates with the reset buttons that are now required by most cities to be installed anywhere near where there's water – usually kitchens and bathrooms.
The Snap Power USB-charger-equipped faceplate is a great idea, in that you don't have to dig out another USB-charging device and plug that in first. For those of us not too comfortable with messing with power sources, it's a bit daunting to face turning off the power to your outlet before you install the new faceplates. These are both cool ideas and the products look nice. Just to be sure it's right for you or your giftee, read the
Amazon reviews
before you make a purchase decision.
For your snoring spouse/SO.  In case you want to give something you believe might be helpful to a spouse who suffers – or makes you suffer – with snoring problems, only consider this if you're pretty sure s/he won't be insulted! Rest-Rite makes a back-sleeper's aid that's designed to gently remind you to sleep on your sides instead of your back – when snoring often kicks in. These are disposable (wish they were reusable) kinda big (about 4 inches in diameter) stick-on molded plastic bumps that stay in place and prevent you from rolling onto your back in the middle of the night. We were surprised to find that it really did stay in place, in spite of some tossing and turning – which we did carefully so as not to have to be reminded mid-turn that we were passing by our back-sleeping option. Gotta think this could help those who drift onto their backs and can't help sawing logs. You can try a sample pack of 7 for ~$17. Even though that seems high, how can you put a price on your mental health? Let us know how it works for you.