We all love to get away sometimes, even if it's to a park or a beach or even just a visit out to the suburbs. And some boomers who saved up over the years can now count on a nice nest egg to travel anyplace on their bucket list. So here are a few ideas for making your travels more convenient, or fun and fashionable or exotic: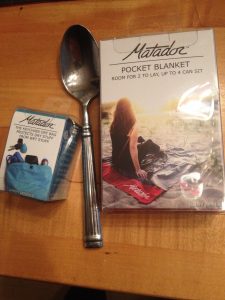 Handy beach/picnic/gym stuff. On vacation – or at home – you don't want to lug along a clunky bag to put your wet suit or sweaty gym clothes in. You sure don't want to worry your cell phone is gonna get wet on a beach or picnic. Matador offered a test sample of a couple of their practical little easy-carry items tohelp with travel/vacation situations. Their Matador Droplet Wet Bag ($14.99) comes in a 1.5-inch teardrop-shaped pouch and unfolds to a generous size (see photos). Although you probably can't fit your gym shoes in here, you can certainly cram some shorts, a top and some socks in and know they won't smell up your bag or dampen your other items. If you've got tiny grandkids and you're out somewhere when they spill all over their clothes, this is a great place to stash the wet stuff. Or maybe you're carrying around a bottle of red wine on your outing and don't want it to stain anything in your bag…
The surface of the bag is waterproof, but overall the bag is not at the closure point. So don't be thinking you can drop it in the white water rapids and be sure your phone will be dry. But for simpler challenges, it's handy on your keychain and will keep water out or watery stuff in. And believe it or not, it's not too tough to get in back into that little pouch.
Also, say you're out walking or climbing or whatever-energy-level activities you prefer. At some point you decide you want to sit down, but there's no bench or the nearby rocks are wet. Or there's only dusty, damp or muddy ground. Never fear. Whip out your
Matador Pocket Blanket
 ($24.99) and lay it out for you and a friend to relax comfortably on. At 63″ x 44″ it's almost the size of a throw, and more than two could sit if needed. It's water and puncture resistant and folds up into a neat little package that fits easily in a pocket or purse. You could even use it as a cover in a sudden rain.
High-tech in-ear sound with fashionista design. Big sound. Small package. Cool look. In a nutshell, that's Crystal 1More Dual-Driver In-Ear headphones. We all want to look chic when we're using our phones or tablets or whatever, and you can't go wrong with these. Not only are these buds tuned by a Grammy-award-winning sound engineer, but they look good, too. 1More sent a pair of these to evaluate.
Sitting outside and integrated into the
in-ear bud is a faceted Swarovski crysta
l – either sexy black or pretty pink; you get both colors in a single package for $79.99. Together with the matching-color, coated wires, these buds have a classy, fashionable look. They also come with a neat little storage case and several sizes of silicone eartips so you can get a better fit in your ear. If the plugs don't stay in your ears, try the larger, triple-flanged tip. The earbuds themselves are fine-tuned by produce great sound – once you get them tightly seated in your ear. You may have to tug on your earlobe or pull on the back of your ear to open the canal wide enough to get them properly situated. Once they're in you'll hear the full and satisfying range of bass/treble tones in your music or movie or game.
The cord is covered with a special Kevlar coating that protects the internal wires and makes the cord tangle-resistant – a much-appreciated feature for those of us boomers who are cord-challenged. The inline-microphone is very handy with its 3-button switch for answering/canceling calls and turning the volume up or down. Nice note: the phones automatically turn the music down on your phone when a call comes in. And it's so nice not to have to hold the phone up on a long call.
Use these while you're on the plane or in the car/bus/train to listen to your music on Pandora, Spotify or whatever. Or if you want to rest or sleep – or just escape the guy-next-to-you-who-wants-to-talk – use them to listen to a white noise app like the simple 
Bed Time Fan
or the adaptable 
Relax Melodies
. The latter is an amazing app that lets you choose between nature sounds, guided meditations and multiple other relaxing sounds. You can even overlay sounds, like play ocean waves and rain at the same time. Cool. <Grin>
Cruise and safari in Africa 2017!
Yep. If you're looking for exotic, this is it – the land of elephants and lions and giraffes and wildebeests awaits.
CroisiEurope
hosts a bunch of different
cruises through Africa
, but next year they're introducing a new trip sailing up the Chobe and Zambezi Rivers with their new luxurious 16-passenger river cruise ship. Select a 6-day, 5-night cruise through Southern Africa in one of eight exterior-facing deluxe suites with balconies, a panoramic restaurant, lounge bar and rooftop patio with pool and chaise lounges. After that, enjoy a 4-day, 3-night stay in CroisiEurope's own 5-star lodges, complete with safaris and a day at Victoria Falls. For a complete list of their cruise itineraries, visit their
cruise website
.
Wherever you choose to go, relax, expand your horizons and open your mind. Travel well!